News
Posted on Apr. 5, 2021
We are so excited to welcome everyone back to school! Please familiarize yourself with the current Covid info and daily health checklist. They can all be found on the Division website HERE Please use…
Posted on Nov. 26, 2021
Make sure to check PowerSchool to see your child's report card starting Wednesday at 2pm. Let's celebrate all their hard work!
Posted on Nov. 25, 2021
Enjoy your relaxing day off! 
Posted on Nov. 24, 2021
Reconciliation In Schools Everywhere Club Please join us December 15th from 3:30-4:30 in the Foods lab to learn how to make Bannock.  This club is open to all students who are interested in learning…
Posted on Nov. 19, 2021
Tryouts for Basketball will be starting next week starting at 3:15 in the Fox Run gym. No spectators for practices or tryouts please. Girls - Monday, November 22 and Wednesday, November 24 (3:15-4:45)…
Posted on Nov. 18, 2021
Help us Stuff a Bus with items for the food bank and Christmas Stocking gifts this holiday season. We are hoping to help ease the burden of Christmas for local families in need. Any items you can donate…
Posted on Sep. 2, 2021
Click HERE to check out the latest news at Fox Run.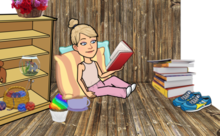 Posted on Apr. 4, 2021
To view more information on how to use our virtual library, please click the button below.  Go to Destiny Discover Home